Who's Who Magazine Article (page 1)
Structured for


(continued from home page)
Leading the company of 185 full-time and 247 part-time piecework employees is the husband-and-wife team of Erick Donahoe and Linda Raymond-Donahoe. Together, they bring to the company a depth of construction experience, executive leadership skills, appreciation for their employees, commitment to speedy and quality service—and often laughter.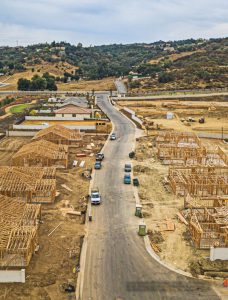 "It can be like controlled chaos out there, so we like to surround ourselves with people with a good mood and a good sense of humor," Linda says. "It helps."
Six Star, based in Oceanside, California, specializes in single and multifamily construction framing work in the midst of a long-term housing shortage in Southern California. The situation is made worse because there are not enough workers for the framing jobs needing to be done—now or in the future.
The state has mandated a new regional housing plan that requires municipalities to collectively zone for more than
1.3 million new homes by the end of the decade. The added factor is the continued increase in cost for owning or renting a home.
"There's no framing like Southern California framing," says Linda, who is in charge of Six Star's administrative operations.
Six Star is frequently called on to frame prefabricated, mass-produced homes. For those projects, the company performs conventional wood framing at a pace of eight houses every eight days, given overlapping crews' responsibilities. Multifamily projects take longer, but in this region's expedited time-frame, new residents can begin occupancy within three months. Often, entire developed neighborhoods are complete within 11 months.
Linda says the entire home-building process is streamlined in compliance with state regulations that require special- ty crews that work on each house. This ensures there is always work going on to build as many homes as possible in this troubled housing market. Read More…