Who's Who Magazine Article (page 3)
Framework For Success
The husband/wife team attributes their success to knowing their business well and striving for quality at every turn. Raising six children together also honed their teamwork skills.
Six Star prioritizes intensive pre-job planning with the general contractor. They review the future structure's layout, scheduling tables, lumber lists and any other plans related to the framing phase. This thorough approach helps to eliminate unnecessary cost overruns and delays.
As a carpentry contractor, the company adds to typical framing work such specialties as roof-cutting and stacking, rough carpentry, stair-cutting, building roof and floor trusses, and other solutions to construction challenges. While the majority of its work is residential, Six Star also tackles projects such as office buildings, commercial buildings and shell buildings in which the company constructs the shell of a structure that will eventually be sublet to a number of independent businesses, each deciding the interior finish work for each space.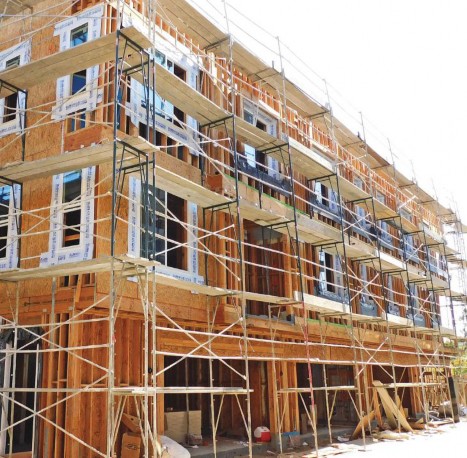 The company strives to build a solid working relationship with the general contractor. This ensures each job site features comprehensive safety measures, job site supervision, and fast and comprehensive completion standards.
Six Star serves the areas of Los Angeles, San Bernadino , San Diego, and Orange, Riverside and Imperial counties.
Hiring and retaining quality employees is vital to their success, Linda says. "We need a large, skilled pool of dedicated labor to do what we do, and we've been fortunate to find and keep good workers. Everybody works very
hard, and they believe in what they are doing while dealing with the chaos and rush of the market.
She attributes her husband's personality and humility as one reason why the Six Star crew is dedicated and easy to work with.
"Erick has had eight men working with him—dating back before we started Six Star—for 15 years who have come up through the ranks and are now foremen who we helped train," Linda says.
Six Star is proactive in searching for new hires and has an interest in grooming the next generation of workers in the trades.
"Skilled trades are the way to go, so you learn and be patient, and you start by sweeping out the dirt on a project
site. Next you'll be running a production framing crew and perhaps even a company," she says. "No matter what,
entry into the trades translates to making higher dollar wages.
Six Star's new focus is work with entities such as the Building Industry Association of Southern California Scaffolding ensures safety at this Six Star Framing Concepts project that will result in a beautiful and affordable three-story multifamily development. (BIASC). The company plans to participate in the Building Industry Technology Academy, a four-year high school program to encourage youth to consider homebuilding careers. Six Star also plans to partner with BIASC to establish a similar program at two nearby community colleges—MiraCosta College in Oceanside and Palomar College in San Marcos, California. Read More…