Who's Who Magazine Article (page 4)
Residential Projects
Six Star takes seriously its role in the difficult housing market. As its crews continue their pace, creating the skeletal framework for hundreds of homes each year, the mission continues to be their motivation.

"We've done a lot of work for KB Home," Linda says. "With them, we're building homes that allow people who would normally have a great deal of difficulty breaking into the outrageous Southern California housing market to do so.
It aligns with our values as a company: Home ownership is not a privilege; it should be accessible for all."
KB Home projects are examples of work requiring Six Star to have great flexibility. The homebuilder gives buyers latitude in personalizing their homes by offering choices in homesites, floor plans and design features.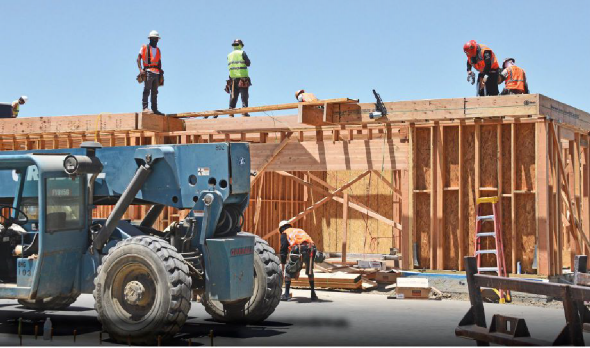 One recent project with KB Home is Sweetwater Place, a community of 122 two-story houses in the unincorporated Spring Valley area of San Diego County. The neighborhood, built in 12 months, offers homes with up to five bedrooms and three baths, ranging from 1,800 to 2,100 square feet.
Six Star has worked with KB Home to build residences in communities including Paseo Del Mar (93 three-story
units) in Irvine, California; Lighthouse (44 three-story single-family homes) in Stanton, California; and Magnolia Square (108 three-story units) in Buena Park, California.

The continued commitment to framing homes in such a challenging market has not been easy, but it's always rewarding, Linda says. "Growing the company from a bootstrap approach over the years and even through the challenges of 2021—not to mention severe lumber shortages and price hikes—is actually a source of pride and motivation. (Home)